The examination of a disputed will
[To see these images at higher resolution, please click on each photo]
In this series stands out the usefulness of an examination carried out with really high resolution cameras or scanners, and the utility of flexible programs that allow a wide choice of possible algorithms. In photo #1 we see the front of a suspect testament (the two illegible words have been blurred on purpose in order to protect the privacy of the parties concerned).
In photo #2 we show the same testament scanned overleaf at extremely high resolution and subsequently processed with specific algorithms enhancing the third dimension perspective (that which mainly concerns handwriting pressure). In the central area one notices the sudden reduction of paper indentation (see the very light word "Chiavari" before the date), an ascertained dramatic drop in pressure that casts further doubts on the document actual authenticity.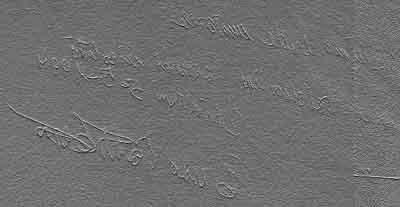 ---


e-mail: scripta@examina.nettel.: +39 0248193228 fax: +39 024819119 © 2010 Fausto Brugnatelli - All rights reserved.